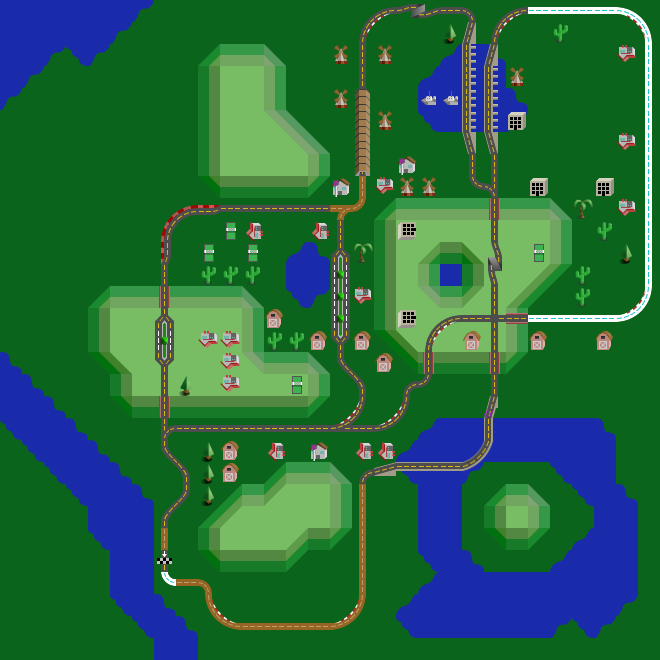 Title: Evasive maneuvers
Author: afullo
Cars allowed: Lancia Delta Integrale, Lancia Stratos
Style: OWOOT
Ran: 2022-12-01 - 2022-12-26
Download track

Cas @2022-12-31 20:44:36 UTC
Congratulations, guys! Hope you all have a Happy New Year! It'll surely be a great year!
Alan Rotoi @2022-12-30 13:32:50 UTC
Sebastian, 4to puesto en y tricampeón en fútbol! Vamooo!
KyLiE @2022-12-28 11:45:51 UTC
Well done

@sebastianali

! Also, we saw great performances from

@Duplode

and

@Alan Rotoi

this season, both making it onto the podium with only a single point separating them. It was a pleasure racing with you all, and I look forward to seeing you again for the next race starting on 1/1/2023!
sebastianali @2022-12-26 01:58:27 UTC
4th place. Not too bad considering you guys have decades of experience. When I was 1st for a moment I feel so good. Good race.
Duplode @2022-12-25 21:36:24 UTC
Will this be the final lap of the year, or is there a Christmas surprise on the cards?
sebastianali @2022-12-25 16:10:45 UTC
Merry Christmas! Hope everyone is having a great day!
Alan Rotoi @2022-12-25 12:59:34 UTC
Merry Christmas!!
KyLiE @2022-12-25 02:04:24 UTC
Merry Christmas everyone!
Duplode @2022-12-17 22:26:28 UTC
Getting my name on the scoreboard. I guess I'll have to switch routes, though
KyLiE @2022-12-17 02:48:16 UTC

@Cas

, they're both public now, so you should hide the most recent replay. When two different racers post an identical time, the oldest replay is ranked higher, so I think this situation should be treated the same way.
Cas @2022-12-17 00:41:10 UTC
Alright... I've set the Christmas decorations I know I should put something new for this year, but these ones are pretty and I thought we could reuse them
sebastianali @2022-12-16 03:52:57 UTC
I don't remember it, but I think it's actually a different replay, but coincidentally the same time? IDK.
sebastianali @2022-12-16 03:51:10 UTC
Actually, I didn't put that time public since I thought it was unnecessary since it was the same (I uploaded it by accident BTW), but I would make it public, no problem.
Cas @2022-12-15 03:24:15 UTC

@sebastianali

, I'm looking at your identical times with the same racing style. The system didn't automatically set the old one as superseded, but since the old one is public and the new one is not, I'm not sure if I should do that myself manually.

@KyLiE

, what do you think?
KyLiE @2022-12-12 23:28:33 UTC
Nice work

@Alan Rotoi

! I thought that might be the case.
KyLiE @2022-12-08 10:32:09 UTC
Welcome back

@Cas

! For steering at least, the joystick control in is analogue rather than digital, but it doesn't appear to go all the way to full lock. However, this might be intentional to make steering with a traditional joystick easier.
Alan Rotoi @2022-12-08 10:07:54 UTC
I think Marco tried with a steering wheel.
Cas @2022-12-08 04:39:59 UTC
What I mean is, I think that even though accepts analog joysticks, it just takes side turns in a yes-or-no way. But it's been long ago, so I don't remember well.
Cas @2022-12-08 04:38:23 UTC
And I'm back from Europe!!

@sebastianali

, if your system or some software allows you to map only up and down to keys but keep the sides analog, that would be great, but it's been a long time since I last tried with a joystick and I don't remember if the sides were analog anyway.
sebastianali @2022-12-08 00:33:05 UTC
I uploaded a time that was coincidentally the same by accident, sorry.
sebastianali @2022-12-07 21:22:54 UTC
Well, thanks for the answer anyway. When I buy the steering wheel, I would share my experience with it, so in case that somehow works someone else can know it.
KyLiE @2022-12-06 13:56:25 UTC

@sebastianali

, I have tried a controller with analogue sticks, but uses the Y axis for acceleration and braking, and it can't be remapped. You could externally map a controller to keyboard inputs (DOSBox supports this) but that kind of defeats the purpose since you will lose analogue controls. I also have a steering wheel, but I haven't tried it because I couldn't get the controller working properly.
sebastianali @2022-12-06 00:35:08 UTC
Someone knows if it's possible to play with a joystick and a steering wheel? Steering wheel I didn't try it yet, I plan to buy one, but the joystick is really giving me trouble. The car doesn't turn correctly and it seems that the button layout cannot be configured. I would really appreciate the help of anyone.
sebastianali @2022-12-01 22:55:37 UTC
Took me a while to get used to the car