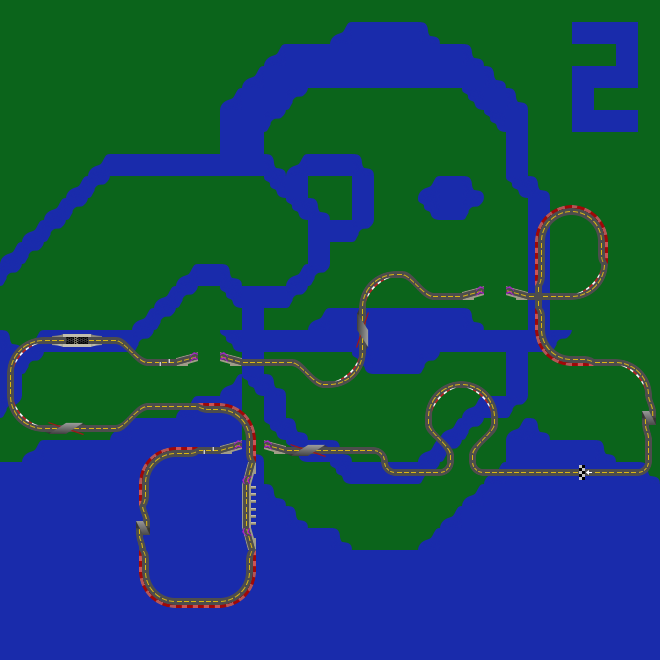 Title: Die Ottobahn
Author: Overdrijf
Created: 2018-10-23
Cars allowed: Audi V8 Quattro DTM, BMW M3 E30 DTM, Mercedes-Benz 190 E DTM
Style: OWOOT
Ran: 2018-10-31 - 2018-11-26
Download track

Cas @2018-11-26 03:44:03 UTC
Ready! Replays published! Thanks everybody for participating. Next race will start on 1st December
Cas @2018-11-26 02:32:54 UTC
Race is closed now, but I'll be checking the pending replays and soon publish all of them
Overdrijf @2018-11-25 20:01:00 UTC
I may have been aiming too high. Didn't finish any more NoRH laps with the Audi and Mercedes to improve my times. Thanks to everyone for participating, and if you're still going good luck!
Duplode @2018-11-25 17:20:51 UTC
Not the best lap, but the Audi is a joy to drive. I will have another go at it if I can find the time. 3/3 \o/
Overdrijf @2018-11-22 06:43:06 UTC
But you found another very nice one to submit. This scoreboard is becoming a proper mess now, we had just the right amount of racers this month to allow multiple replays.
Duplode @2018-11-22 02:39:11 UTC
I wasted several nice BMW laps by slightly violating track limits in one chicane or another... but anyway, 2/3.
Cas @2018-11-20 22:42:32 UTC
Also, just patched this so new pending replays won't displace the old pending one if the car is different. Thanks for the feedback, Leo!
Cas @2018-11-20 22:38:44 UTC
Done. Reopening...
Cas @2018-11-20 22:28:24 UTC
Temporarily closing the scoreboard to fix the issue....
Cas @2018-11-20 22:24:22 UTC
I know what happened! Normally, R4K accepts one replay per style per racer (not per car). If you submit a replay and it's verified, then you submit another with a different car, it's up to the moderator to delete it or not, but if you submit a second replay when you have another one pending (same style), only the one with the better lap will stay in the scoreboard. The replays are in the system, though. We'll have to issue them manually.
Overdrijf @2018-11-20 22:17:25 UTC
I don't see them. Could you try resubmitting them? Thanks for bringing it to our attention.
Shoegazing Leo @2018-11-20 17:43:06 UTC
And the another three replays that I sent?
Overdrijf @2018-11-19 21:02:56 UTC
(I just noticed I can only see Leo 's unfortunately rejected replay because of my new race moderator powers. My last comment does not make a lot of sense without that.)
Overdrijf @2018-11-19 19:52:42 UTC
Nice to see more people moving onto the track. I've spent quite a lot of time on making the Audi do a better NoRH lap so far, but it seems insistent on being an RH car.
Cas @2018-11-14 00:06:09 UTC
Checked the replay. At a point, the car is almost completely out of the track and it's not possible to tell if there's any pixel underneath it, although it seems there is. Still, as the rules say, if you're in contact with the asphalt, then it's right, and you definitely are.
Cas @2018-11-14 00:00:38 UTC
I won't delete them. Still, don't worry. The "delete button" deletes the entry from the scoreboard, but does not delete the replay file.
Overdrijf @2018-11-13 21:02:28 UTC
If more people enter you can clean it up, just give me some notice so I can download anything that would be gone. (Cas gave me race moderator rights, so the rest of you guys don't need to do anything to make this possible.) - As for my own replays: I just like the look of me taking up half the scoreboard.
Cas @2018-11-13 20:45:00 UTC
Yes, I saw you hand't deleted the other lap so I thought of that and left it there untouched. Alright, we can do it per car then. The scoreboard may look a little more messy, but the results will be more useful for analysing the cars.
Overdrijf @2018-11-13 10:48:17 UTC
As the person planning to use this as phase IV test data I'd like to have the best lap per car from every racer. So if you start deleting things please warn me. I'm kind of undecided on whether the scoreboard looks better or worse that way. (Also: I got to 3/4 of a magic lap today but crashed in the final banked curves section, so I had to finish it with RH. )
Cas @2018-11-12 22:04:38 UTC
Hey, should we take as usual only one RH and one NoRH result per racer on the scoreboard? Or do you guys want it to be up to one per car?
Duplode @2018-11-12 02:06:44 UTC
Okay, let's get it going. 1/3
Overdrijf @2018-11-09 17:27:00 UTC
On schedule for at least one serious try with each car.
Cas @2018-11-02 00:47:53 UTC
Verified your replays, Overdrijf! Let's see what I can do on this track myself
Overdrijf @2018-11-01 06:08:27 UTC
Thanks, couldn't find that.
Cas @2018-10-31 19:08:03 UTC
I wrote about exactly that point in the "speed-ups" section of the rules. You may jump at the start of a banked road and that's fine, but from the standard verification camera view, you may at no point be completely off track, except after a regular jump. So if you fly over the grass, that's not valid.
Overdrijf @2018-10-31 08:31:29 UTC
Maybe it's good to have a little clarification of the OWOOT rules for this one. Does a replay count if the car jumps from the start of a banked corner into the corner itself, flying over the grass or water to do so?
Cas @2018-10-31 06:53:42 UTC
Uhm... I figure I'll just upload the track now, because tomorrow I may be busy. So the only thing left to do will be to open the scoreboard, which will happen at 00:00 hours GMT